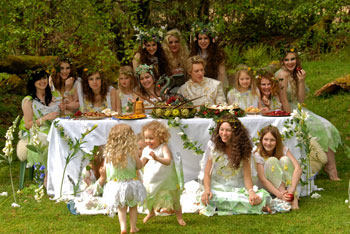 Thanks so much to our fabulous co-partners "Le Centre de l'Imaginaire Arthurien" and our funders, the European Regional Development Fund Intereg IV programme.
Thank you also to South West Screen and the UK Film Council for additional funding through the RIFE Investment Fund.
Sir Lanval
Sir Lanval was shot in just fifteen epic days in two countries on a budget of £25,000! (A teeny-weeny sum that would have paid for less than one second of a major Hollywood blockbuster.)
We all had a glorious time filming in the fairytale landscapes of the Dartmoor National Park and Brittany. There were over 180 people involved, 78 scenes (crazy!) adorable children and animals including two horses, a snake, dogs, goats, a donkey called Lancelot, a raven, a truly regal falcon, our two pigs (Sherman and a heavily pregnant Blossom who subsequently had octopiglets). It was all completely bonkers, and utterly, wildly, wonderful.
The original story of Sir Lanval was written in the twelfth century by Marie de France, a poetess writing for the court of Henry II of England and his French queen, Eleanor of Aquitaine. Marie must have been a brilliant observer of human nature for she writes eloquently of love, loss and the many faces of desire.
C. S. Lewis praised Lanval as one of the finest stories in all of medieval literature. Eight hundred years on, it contains universal wisdom entirely relevant to the twenty first century.